Group program managers and educators can now create, edit, organize, and deploy your own custom questions - all within Med-Challenger.
Online Question Authoring Tools for Clinical Educators
Accounts with "authoring" enabled will see an Authoring Tools navigation item in their portal menu.
"My Questions" is the component where you can create, edit, and organize your custom questions. Here's an example of a few folders with questions placed inside.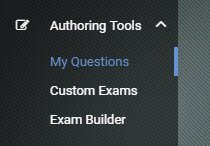 Create Your Own Online Question Library
Entering "My Questions" takes you to your Question Library. This is where you can add, edit, and reorganize your questions. You can search for questions within your library using the search field. Search filters items by text and by tag.
Users can create questions and folders.
Simply drag and drop your items into folders as you'd like and re-order your questions quickly.
Click "Undo" to revert any errant drag-and-drops.
To open and close folders, click the folder icon. To edit your folder's name, click the pencil icon.
To edit a question, find the question you'd like to edit (search). To edit a question, click the "pencil" edit icon next to the question's name.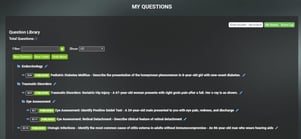 Easy-to-Use Question Editor - No HTML Skills Required
Our WYSIWYG question editor makes things easy. No HTML coding experience necessary.
The "What-you-see-is-what-you-get" question editor allow you to:
Build question descriptions (label your questions for purpose / subject matter)
Upload your own images (add imagery to Q stems and remediation)
Add search tags to each question (for question searches)
Build question stems (full HTML formatting allowed)
Build answer options sets (designate correct and incorrect answers)
Build remediative answer explanations and references

"Default," simple option uses a single answer explanation (remediation passage) for both correct and incorrect question responses
"Advanced" option allows for different correct and incorrect explanations
"None" option provides no custom remediation, simply an indication of correct or incorrect.
Question types include:
single answer
multi-answer
true/false
More question types are planned.