Your Dashboard is an objective-based center that provides top-level access to features, recent data, and other account components. Depending on your account type, you may see additional options. You can also use your left menu for navigation.
Standard Dashboard Tour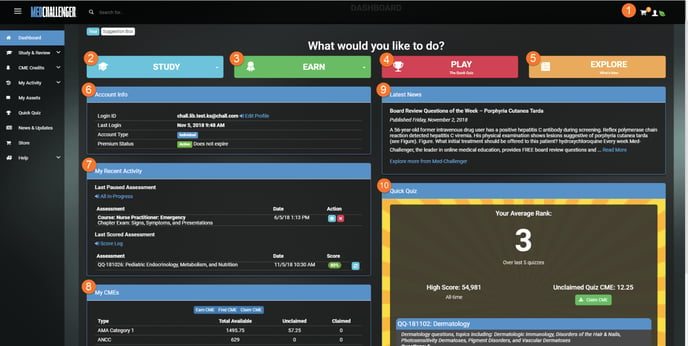 1) Profile: Access to Your Account Information and Settings
Manage your contact information, auto-renewal & payment option information, and other required information for Quick Quiz gaming and CME credit claims.
2) Study: Exam Study & Knowledge Review
Take adaptive board exam simulations, chapter exams, and topic-based learning segments. Practice and Review Modes. Get automatic "weak area" remediation guidance. Access Custom Exam Builder and more.
3) Earn: Find, Earn, Claim CME Credits
Find CME credits by type in your assets. Earn CME by completing topic-based tests. Practice and Review Modes. Score 80% or better to qualify. Claim CME and produce PDF certificates. See all CMEs available or incomplete in any given course asset.
4) Play: Weekly Free CME Quick Quizzes
The Original Quick Quiz. Access all current Quick Quizzes, our free, weekly CME credit quiz with peer-leaderboards. Five quizzes are available at all times with a new quiz issued each week. Earn CME credits with a score of 80% or better.
5) Explore: See & Learn What's New
Read latest posts from our Medical Education Blog and more.
6) Account Status
Brief information, alerts, and actions related to your account profile and status. Access to Profile and Products.
7) Recent Activity
Easily start up where you last left off.
8) My CMEs
A summary of CME credit types available and claimable earnings across all assets in your account.
9) Latest News
Latest article from our Medical Education Blog.
10) Quick Quiz Dashboard
Fast access to latest Quick Quiz. Summary of your Quick Quiz rank over the last 5 quizzes, point totals, and high scores.
Tip: Main Navigation Tree
A full navigation "tree" always be available in the left margin of your account (desktop).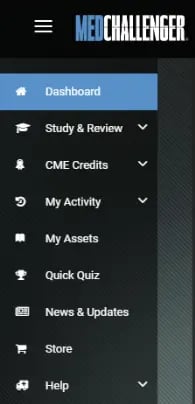 To hide or show, click the the icon of three lines next to MedChallenger. On mobile devices, a similar icon at the top of your screen will display the navigation tree with clicked.